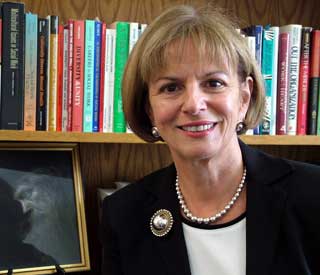 School
National Catholic School of Social Service
Expertise
Cultural diversity
human behavior
human growth and development
social work management
delivery of social work services at the workplace
Bio
Dr. Marie Raber was appointed Associate Dean in Fall 2009, and Interim Dean in September 2018.  Prior to that time she served as Chair of the BSW and presently is Chair of the MSW Program.  In Fall 2002, Dr. Raber created the NCSSS Alumni Association and currently serves as its faculty advisor.
Prior to coming to NCSSS, Dr. Raber taught as adjunct faculty at City University of New York, Fairfield University and Fordham University.  In 1989 she was hired at NCSSS as a full-time faculty member, earning tenure and promotion to Associate Professor in 1999.  Her teaching has focused on courses in Cultural Diversity, Human Behavior, Human Growth and Development, Social Work Management and Delivery of Social Work Services at the workplace.
Dr. Raber's primary field of practice, research and writing is in the areas of downsizing and job loss, occupational social work, and the influence of workplace issues on the individual and the family.  She served as an internal consultant for the Xerox Corporation, where she conducted research related to corporate sponsored child-care and eldercare programs.  Additionally, she worked with employee assistance programs, conducted diversity training, career management, and human resources development with professional organizations and trade groups.  Dr. Raber provided individual counseling and led workshops for RIGHT Management, a major outplacement and human resources firm.
Published Works
Raber, M. & Richter, J. (2001). "Bringing social action back into the social work curriculum: Model for "hands-on-learning." Journal of Teaching in Social Work, 19 (1-2).
Weinstein, B., Slaght, E. & Raber. (2001). "Reexamining the clinical response to denial in alcoholics." Employee Assistance Quarterly
Weinstein, B., Slaght, E. & Raber, M. (1999). "Re-examining the clinical response to denial in alcoholics." Employee Assistance Quarterly