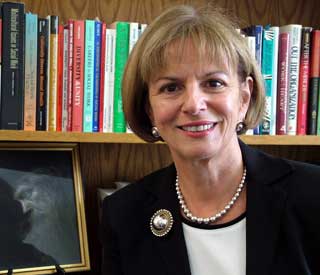 Our mission is derived from our University along with that of the social work profession. The mission of the National Catholic School of Social Service is to educate students from diverse faiths and cultures who in their professional endeavors will embody the values of social justice, service, and scholarship. Our mission is grounded in the justice and charity foundation of Catholic social teaching and the tradition of a modern university that welcomes all forms of human inquiry.
It is the grounding of Catholic social teaching that sets our school of social service apart from other schools of social work. Recognizing that the measure of a just society is how it treats the least among us, the leading organizing principle for teaching, scholarship, and service here at our school is the preferential option for the poor and vulnerable as outlined by the United States Conference of Catholic Bishops in 2019.
To that end our faculty educate our students and our public, build knowledge, and raise awareness about how to create a society where the needs of people who are poor and vulnerable are seen as an integral part of the common good. Furthermore, that the poor and vulnerable populations are treated with dignity and respect.
For NCSSS, there is nothing more important than our students' success, as they will go on to serve people and communities who are vulnerable, oppressed, and living in poverty. With over 100 years of providing excellent social work education, our school attracts talented students from all over the country. Our students are dedicated to leading efforts to address the complex challenges facing local, national and global communities in the 21st century.
— Marie J. Raber
Interim Dean
National Catholic School of Social Service